Farming Simulator 2017 Savegame Editor V 2.0 [SP]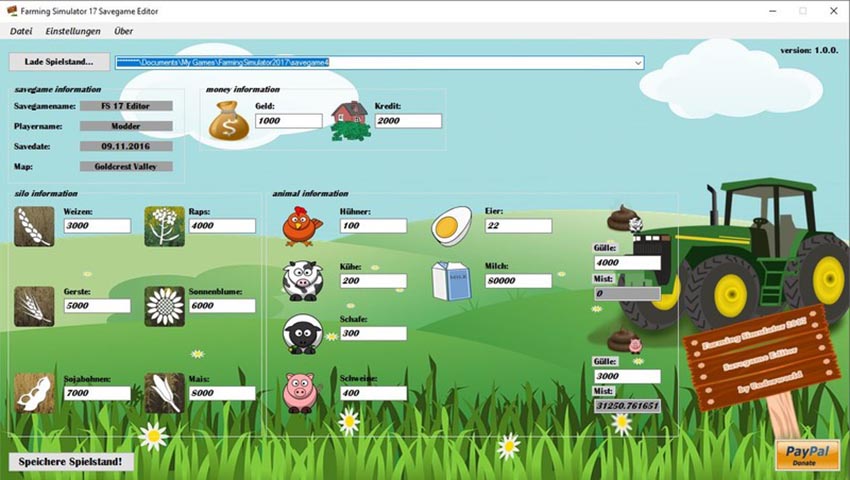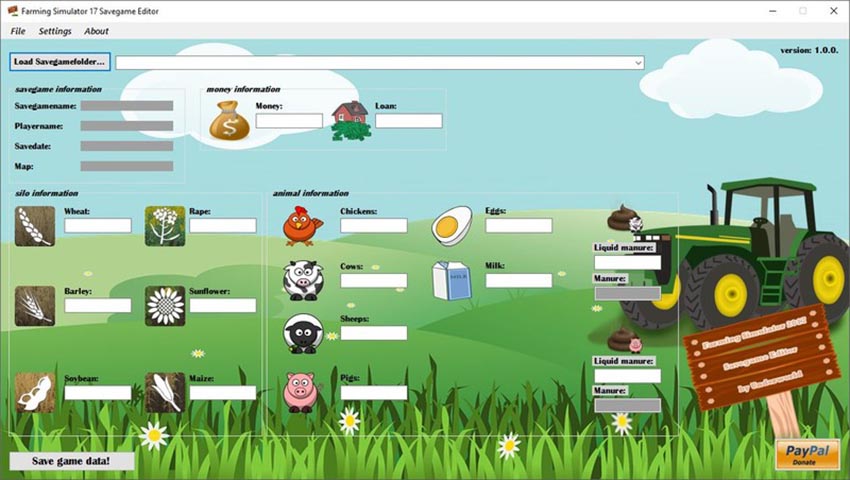 Farming Simulator 2017 Save Game Editor
This external program Scores in Farming Simulator 2017 to be changed!
The following values can be changed:
# Money, Credit,
# Wheat, barley, rape, maize, soya beans, sunflower
# Chicken stock, sheep population, number of cows, pigs inventory
# liquid manure, milk, eggs,
And the program is also some information from …
# manure, savegamename, player name, date saved, map (Map)
Instructions for Save Game Editor
1) Unpack file via right-click
2) Start file "Farming Simulator 17 SavegameEditor.exe"
3) left at the top "Lade Spielstand … (German) or Load savegame folder .. (English)"
Can be changed under Settings!
4) Desired savegame choose mostly in "… \ Documents \ My Games \ FarmingSimulator2017"
Change 5) values according to your mood
6) Bottom Left "Speichere Spielstand! Or Save game data!
7) Start game and look forward to new wealth
Changelog:
Version 2.0.0
Diverse Neuerungen und Funktionen hinzugefügt.
Für genaue Beschreibung siehe Modbeschreibung!
#Hühnerbestand(männlich/weiblich),
# Schafsbestand(männlich/weiblich),
Wasser,Heu,Gras
# Kuhbestand(männlich/weiblich),
Wasser,Heu(Feld/Kuhstall),Gras(Feld / Kuhstall),
Kraftfutter(Feld / Kuhstall),Silage(Feld / Kuhstall),Stroh,Milch
# Schweinebestand(männlich/weiblich),
Wasser,Zuckerrüben,Kartoffel,Stroh,Weizen,
Gerste,Sojabohnen,Raps,Sonnenblumen,Mais
# Gärreste (BGA)
# Alle Fahrzeuge waschen!
Credits:
Underworld