Fendt 700 Vario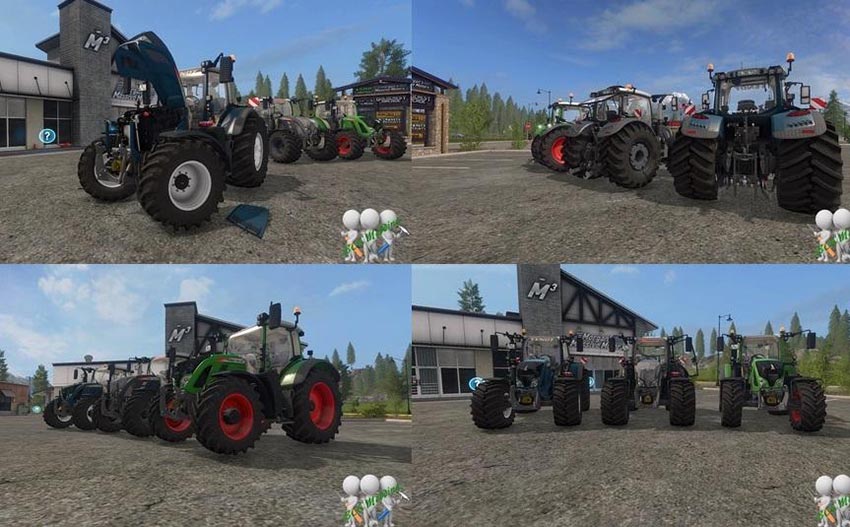 Thanks:
– LexikCZ for releasing parts from its 900 Fendt
– Landgrave for advice and test
– CW / Lower Saxony Meck-Pomm Agrar for testing, tips and the Michelins in the appropriate size
– Puma / FBM for tips and help with the latest optimizations
Fendt 700 Varion by Bonecrusher6 (Configurable Lightbeams)
– own folder structure
– Disassembly in Maya / most assembly in mergeGroup construction
– Open hood by IC (+ separate left and right side panel)
– animated engine
– new sound / IndoorSounds / LuefterSound / horn sound changed
– Hoods and exhaust grille in black or gray selectable
– color choice (standard FL console colors with)
– Rim color choice
– Driver's seat can be rotated by 35 degrees to the right via IC (inner camera and driver swivel)
– foldable armrest and passenger seat by IC / retractable headrest
– Left door (also from outside), skylight and rear window to open via IC
– animated pedals, joystick and handbrake lever
– Steering column foldable via IC / pedal with animated
– All-round lights can be folded by IC
– NewExhaustEffects installed
– Display for cruise control and consumption placed in the dashboard
– Prepared for Adblue, Ülwechsel, – and handbrake mod
– Indicators for light, main beam (ALT re + F), front and rear working lights, turn signals, hazard warning lights, four-wheel drive and differential locks
– LoadScreen animation on the Fendt terminal
– 714er, 718er and 722er engine variant added / chipped 72X-Variante (280PS)
– PS adjusted for all variants according to the data of Fendt (maximum power according to manufacturer)
– DynamicHoses for front, rear and front loader
– Alö console installed
– IC for light, front and rear work lights, turn signals, hazard lights, engine start, radio and cruise control
– Worklight in 'LED' optics (Coronas)
– LightBeams via DesignConfiguration (there is also a second version of the Fendt, where the lightbeams can not be configured, but are generally available from 10 pm to 6 am)
– different wheel configurations: standard, standard with weights, wide tires, wide tires with weights, care tires, twins at the back, Nokian, TM900 710er / 900er, 710er / 900mit weights, TM900 Terra, Michelin AxioBib
– Decoration can be configured by the shop (without, tools, drinks, complete)
– Separately configurable decals for front and rear window (2 front, 3 rear)
– Other, smaller details installed
Important: All ads and animations for the oil change, AdBlue, handbrake, differential locks and 4WD only go,
if you also have the appropriate mods in the modfolder.
You do not have to use these mods, but it's best to
if you want to have the functions in the vehicle too.
To select the other configurations in the shop, you have to pull down the green bar on the right, scroll with mouse does not work.
Links to the mods:
OilChange: http://forum.blackpanthergroup.de/viewtopic.php?f=24&t=699
AdBlue: http://forum.blackpanthergroup.de/viewtopic.php?f=24&t=715
Handbrake: http://forum.blackpanthergroup.de/viewtopic.php?f=24&t=607
DriveControl: zzz_drivecontrol
-> Note for Gearbox users:
-> The mod is not specially adapted to Gearbox or tuned
-> Gearbox tested in conjunction with DriveControl, without further error messages
-> Gearbox tested alone, without further error messages
Further info: (standard, without changes or extras)
Purchase price: 164000 €
Maintenance: 160 € / day
Speed: 50 km / h
Optional data: (real quantities according to manufacturer)
Tank volume: 400 l diesel
Adblue tank: 38 l (consumption varies depending on the work you are doing)
Oil tank: 16 l (change intervals of 10 operating hours each)
Tested in SinglePlayer and on a DediServer, Log clean
Latest patch needed
Credits:
Giants Software GMBH
Bonecrusher6
Grundmodell: Giants Software
Idee / Umbau: Bonecrusher6
Wassertank: LexikCZ
Scripte: Rival / Thomas0815 / DerFreddy7 / Ifko[nator] / modelleicher / SFM-Modding / LoogleCZ / Manuel Leithner / Xentro / RivalBomb / fruktor / Marc-Modding & Blacky_BPG / Bonecrusher6