The first Farming Simulator 17 Gameplay Trailer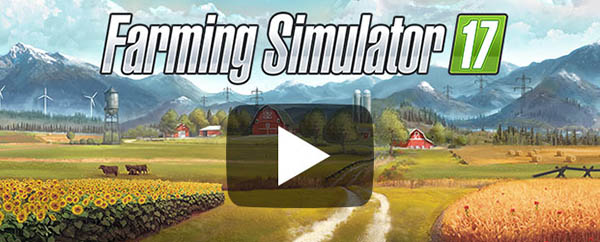 Giants Software just presented to us the new Farming Simulator 17 gameplay trailer. Farming Simulator 17 is a modern farmers game where you have big freedom to become a farmer. In this game you can try and test all the newest farming equipments and vehicles and besides that you can choose from many things to do from growing crops to livestock and much more. In the first gameplay trailer you can see some of the new features and crops such as sunflowers.
Farming Simulator 17 is unique game that is loved by many players in the world. The game is close to real life with many management options. Farming Simulator 17 brings all the biggest farming manufacturers to the game and in the newest edition of the game it will be over 200 unique vehicles and equipment from 70 different brands to pick from. The game also presents these new brands that have never been on the game: AGCO brands Challenger, Fendt, Valtra, and Massey Ferguson!
Furthermore, since Farming Simulator features user made mods a swell the potential of the game is unlimited. And for the first time in game history mods will be available to PC and console users. Besides that, you can play and check mods in mod-supported multiplayer. In console game version up to 6 simultaneous farmers are available at single moment and in PC version up to 16.
Farming Simulator 17 will be available on October 25th on PS4, Xbox One, and PC.